Austria's capital, Vienna, is steeped in history and grandeur. Explore the Schönbrunn Palace, an opulent Baroque residence, and relive the splendor of the Habsburg monarchy. Stroll through the historic center austria best places to visit, a UNESCO World Heritage Site, and marvel at architectural masterpieces like St. Stephen's Cathedral.
Salzburg: Mozart's Birthplace and Beyond
The birthplace of Mozart, Salzburg, offers a harmonious blend of cultural heritage and natural beauty. Explore the Hohensalzburg Castle, perched atop a hill, and immerse yourself in the city's musical heritage. Take advantage of austria best places to visit the Salzburg Festival, a celebration of classical music and performing arts.
Innsbruck: A Playground for Outdoor Enthusiasts
Surrounded by the majestic Alps, Innsbruck is a haven for adventure seekers. Whether skiing in winter or hiking in summer, the breathtaking landscapes will leave you awe-inspired. Visit the Golden Roof and explore the Alpine Zoo for a unique wildlife experience.
Hallstatt: The Fairytale Village by the Lake
Hallstatt, often called the "Pearl of Austria," is a picturesque village between the mountains and the Hallstätter See. Wander through charming streets, visit the salt mines, and take in the mesmerizing views of the lake and surrounding peaks.
Graz: Where Tradition Meets Modernity
Graz, a UNESCO City of Design, seamlessly blends tradition with innovation. Explore the medieval old town, dominated by Schlossberg Hill, and indulge in culinary delights at the vibrant farmers' markets. The Kunsthaus Graz, a futuristic art museum, adds a modern twist to the city's landscape.
Wachau Valley: Vineyards and Castles Along the Danube
A scenic stretch along the Danube River, the Wachau Valley is adorned with terraced vineyards and medieval castles. Take a leisurely cruise, sample local wines, and explore charming towns like Dürnstein. The Melk Abbey, a magnificent Baroque monastery, is a true gem of the region.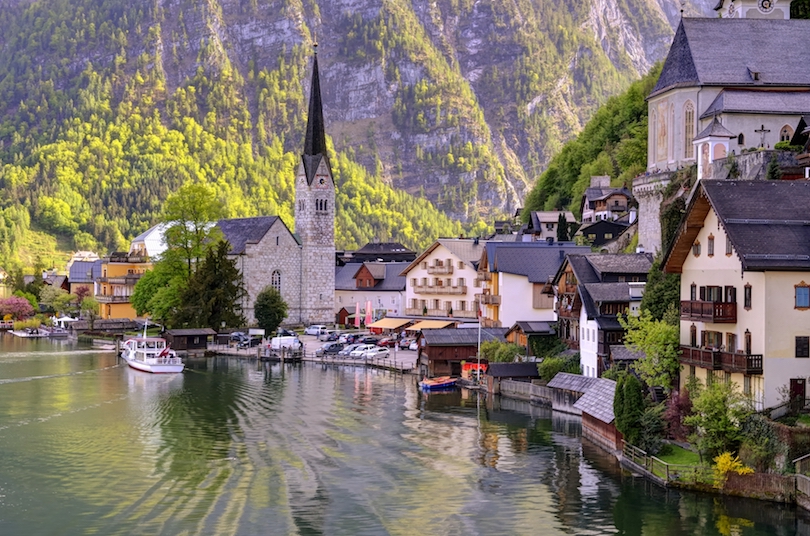 Eisriesenwelt Ice Cave: A Subterranean Wonderland
Venture into the Eisriesenwelt, the world's largest ice cave in the Tennengebirge mountains. Explore the shimmering ice formations and intricate chambers, creating a magical underground world that will leave you spellbound.
Zell am See: Alpine Beauty and Crystal-Clear Waters
Zell am See, nestled beside a pristine lake and surrounded by mountains, is a paradise for nature lovers. Engage in water sports, hike along picturesque trails, and breathe fresh alpine air. The Grossglockner High Alpine Road offers awe-inspiring panoramic views.
Bregenz: A Cultural Extravaganza by Lake Constance
Situated by the shores of Lake Constance, Bregenz is renowned for its cultural events and festivals. The Bregenzer Festspiele, a renowned opera festival, features captivating performances on a floating stage. Explore the vibrant arts scene and enjoy stunning lake and Alps views.
Schönbrunn Palace: Baroque Splendor and Gardens
The Schönbrunn Palace, with its lavish gardens and exquisite interiors, is a testament to Austria's imperial past. Explore the palace's opulent rooms, stroll through the gardens, and don't miss the Gloriette, an iconic hilltop structure offering panoramic views.